Tomoko Mori
b. 1982 Hokkaido, Japan

Lives and works in Berlin, Germany
Tomoko Mori studied textile design, and has a background as a textile designer in Tokyo. Subsequently, she completed her Meisterschüler degree in Painting at Weißensee Kunsthochschule in Berlin, where she has resided since 2007. Reflecting both her private life and urban culture, her work display an inherent reciprocity with her daily surroundings. Utilizing Berlin as an endless source of textures, structures, materials and colors, she picks up on the fragments of the historically multilayered and chaotic city, and finds her inspiration in what is usually overlooked. Employing a digitalization process on these fragments, they turn into colorful paintings that comprise a rich repertoire of miscellaneous patterns. She carefully selects her artworks to fit with individual exhibition spaces, manipulating the environment and redeveloping the standard white cube aesthetic into a novel and personal envelope that redefines the conditions of artistic manifestation.
"During the work process, she repeatedly weighs up the relationship between consciously planned action and intuition. Just as, for example, the natural landscape can change within seconds during an earthquake, Mori's artificial landscapes also change by reacting to processes and coincidences. She first transfers mental images and impressions onto paper and creates drawings and sketches in various techniques and formats. To do this, she also resorts to an archive of photos that she has taken herself. The resulting drawings form the core of her artistic work, they are the basis for everything that follows ... "Marijke Lukowicz in the "Archipelago" catalog, gold rush program. --Tomoko Mori
Residencies and Awards
2020-current Studio Grant im Kunstquartier Bethanien, Berlin
2020 Stiftung Kunstfonds / Künstlerförderung 2020
2019 Künstlerhaus Lukas, Ahrenshoop
2018 Goldrausch Künstlerinnenprojekt, Berlin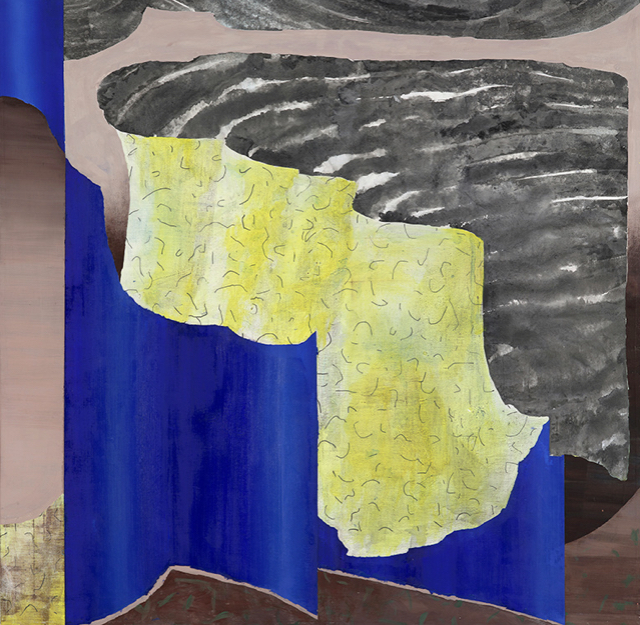 Abgrund, 2015,100x100cm,Acrylic, ink and egg tempera on canvas
For more information about her works.