Sojin Park
b.1983, in Seoul, Korea
Based in Berlin
Awards / Prizes
2013 Nikke (The japan wool Textile) x ESMOD Collaboration Fashion Grand Prix The 3rd Prize ESPRIT COMPETITION 2013 The 1rd Prize
2014 Esmod Berlin Fashion Design BA graduation Show
The 1rd Prize "Die Goldene Nadel",
Hampel Award 22nd international young fashion designers Contest, Wins Excellent Award in Beijing, China
Solo Exhibitions / Projects / Group Exhibitions / Collaborations
Documentary Film "Fully Fashioned", ARTE +7 TV Program.
2015 Collection "The Woman in the Dunes"
Exhibition"EPICENTRO ART GALLERY" in Berlin, Art meets fashion special wearable art featured solely art meets fashion, Exhibition 2016 Collection "Sparkles Monster" Collection "The Front without House
Exhibition" Korea Verband - 25 Jahre Korea Forum " , in Berlin 2017 Kostümdesignerin Music Video "Endless", Luca D'alberto. Berlin Exhibition "Assembled Half", gallery weekend berlin, Studio 183
Den sozialversicherungsrechtlichen Status
2018 Collection "Something between, to be between, if it's between" Exhibition Gallery weekend with Kaltbult_ magazine Project capsule collection " PAcking ( FUcking) world "
2019 Collaboration with " DAS DRITTE LAND " ( Keumartprojects)
Coustume design For film " EWIG" : Written & Directed by Cindy Lee
Collection " FACE TO FACE "
Exhibition Show- window Installation and painting ' face to face ' at BIKINI BERLIN
2020 Collection "Cultivation gestures "
Exhibition" All in one and one in all " at Studio 183 in Berlin
For an artist Collaboration with " KIND OF BLAU " Handprinted on sweaters
2021 Collection "SAL"
"Crossing Borders" For an Collaboration Music performance Clothes design & Textile design with Kindle berlin
For an Collaboration with " STAHLS" Textile Print Design
Sojin Park is an artist and a fashion designer. Her works include drawing, painting and textile art. She often uses a mixture of embroidery, collage and painting to express her dynamic dreamlike stories and feelings of life. "The beauty of synthesis "and "sprit of Bibim" ("Bibim means in Korea a mix of different things). These expressions seem to tell the ancient memory of a contemporary person.
She has created a one- designer brand Assembled Half, design and produce all by herself.
For more informations please contact mial@migrantbirdspace.com, or our artsy page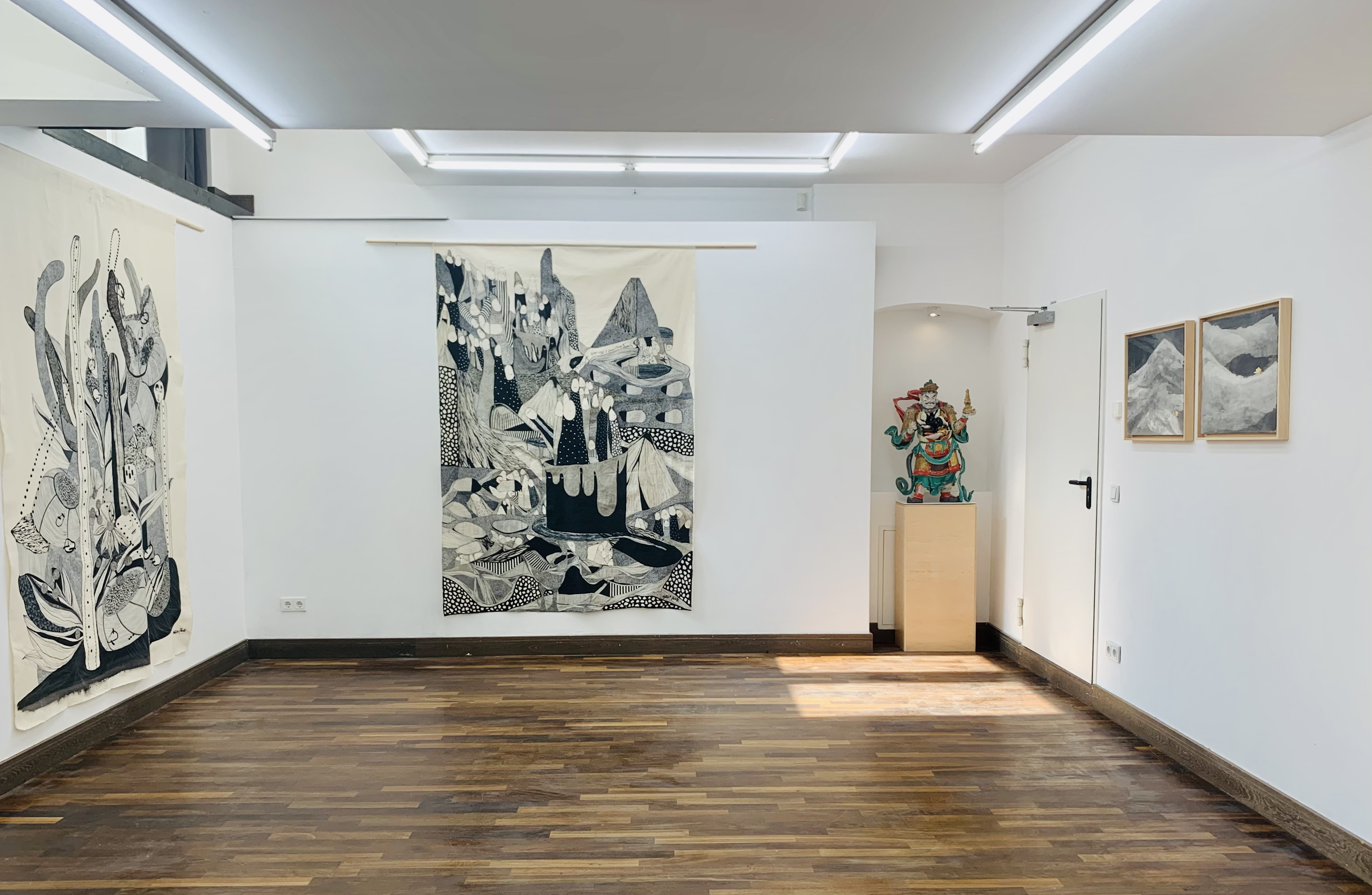 Drifting Stitches - Handout.pdf
Sojin Park Bio & about work.pdf