Nan Jing Art International 2023
23.09.27 -- 23.09.30
Migrant Bird Space is set to showcase the works of two exceptional artists, Melissa Steckbauer and Sookoon Ang, at the NAFI 2023 Nanjing International Art Fair. Both artists are known for their avant-garde and representative pieces.
Melissa Steckbauer will present her photographic installation works, which have been an integral part of her long-term artistic exploration. Her artistic journey encompasses extensive research in painting and works on paper. Since 2005, she has been creating photographic collage works, continuously pushing the boundaries of her artistic practice and delving into spatial contexts. Through her generous sharing of herself, her images, and the inherent raw human emotions in her work, Steckbauer invites viewers to engage with the multidimensional nature of her artistic expression. In her recent series of works on paper, Steckbauer explores the possibilities of paper as a medium, offering viewers not only a glimpse into their lives but also inviting them to engage in vulnerable and sumptuous encounters.
Melissa Steckbauer is represented by Skopia Art Contemporain in Geneva and Riccardo Constantini Contemporary in Turin. Her work has been featured in Castello di Rivoli—Museum of Contemporary Art, Rivoli; KW, Institute for Contemporary Art, Berlin; Deutsch Bank KunstHalle, Berlin; Latvian Centre for Contemporary Art, Riga; Teatr Studio at the Palace of Culture & Science, Warsaw; District, Berlin; Kunstsaele, Berlin; Galerie im Turm, Berlin; Kunsthalle Exnergasse, Vienna; Cité internationale des Arts, Paris; and Ito Folk Museum, Fukuoka, Japan.
Sookoon Ang is a multidisciplinary artist known for her ability to create connections between seemingly contradictory materials and concepts, resulting in rich layers of interpretation. Her work is rooted in the philosophy of impermanence and the interaction between the material and the metaphysical. By linking materials and ideas that appear contradictory, she poetically explores questions of image space and sculptural existence. Often employing subtle yet transformative techniques, her work challenges rational perception, creating objects that transcend their physical presence. Ang's works have been exhibited in prestigious venues such as the Palais de Tokyo in Paris, the Beijing Biennale, the Aomori Contemporary Art Center, and the Singapore Biennale. Her upcoming exhibition will be held at the M+ Museum in Hong Kong. She has received numerous international scholarships, including the Freeman Fellowship and the Asia-Pacific Fellowship, and has participated in programs at various art institutions such as the Rijksakademie, MASS MoCA, and the International Studio & Curatorial Program (ISCP). Additionally, her films and video works have been showcased on prominent film platforms, including Arte, the Rotterdam International Film Festival, the Oberhausen International Short Film Festival, and the Montreal International Festival of Films on Art.


One of the highlights of her exhibition is the immersive installation "New Relics," which raises the notion that our current moment is but a bubble—a fleeting point within an eternal cycle. The installation consists of two towering inflatables, each representing potent symbols from different eras and cultures, intersecting in an undefined space. One object presents the hand of the Buddha, while the other is a replica of the hand of the Roman Emperor Constantine. In this curious encounter, a reflection on the understanding of time is prompted, as these two distinct worlds are synthesized. The inflatables serve as portals, offering glimpses into different dimensions of time. These oversized balloons transcend their physical existence, forming a psychological landscape where time becomes malleable, and the boundaries between the past and present blur. This juxtaposition of two different worlds akin to science fiction prompts viewers to contemplate their understanding of time. The inflatable objects become gateways through which individuals peer into different dimensions of time. Standing amidst these colossal hands, viewers experience a visual contrast that sparks contemplation of the essence of their own existence. By reminding us of the impermanence of human achievements and the fragility of ideologies, power, and empires, Ang's work encourages a profound reflection on the intricacies of reality and transcendence.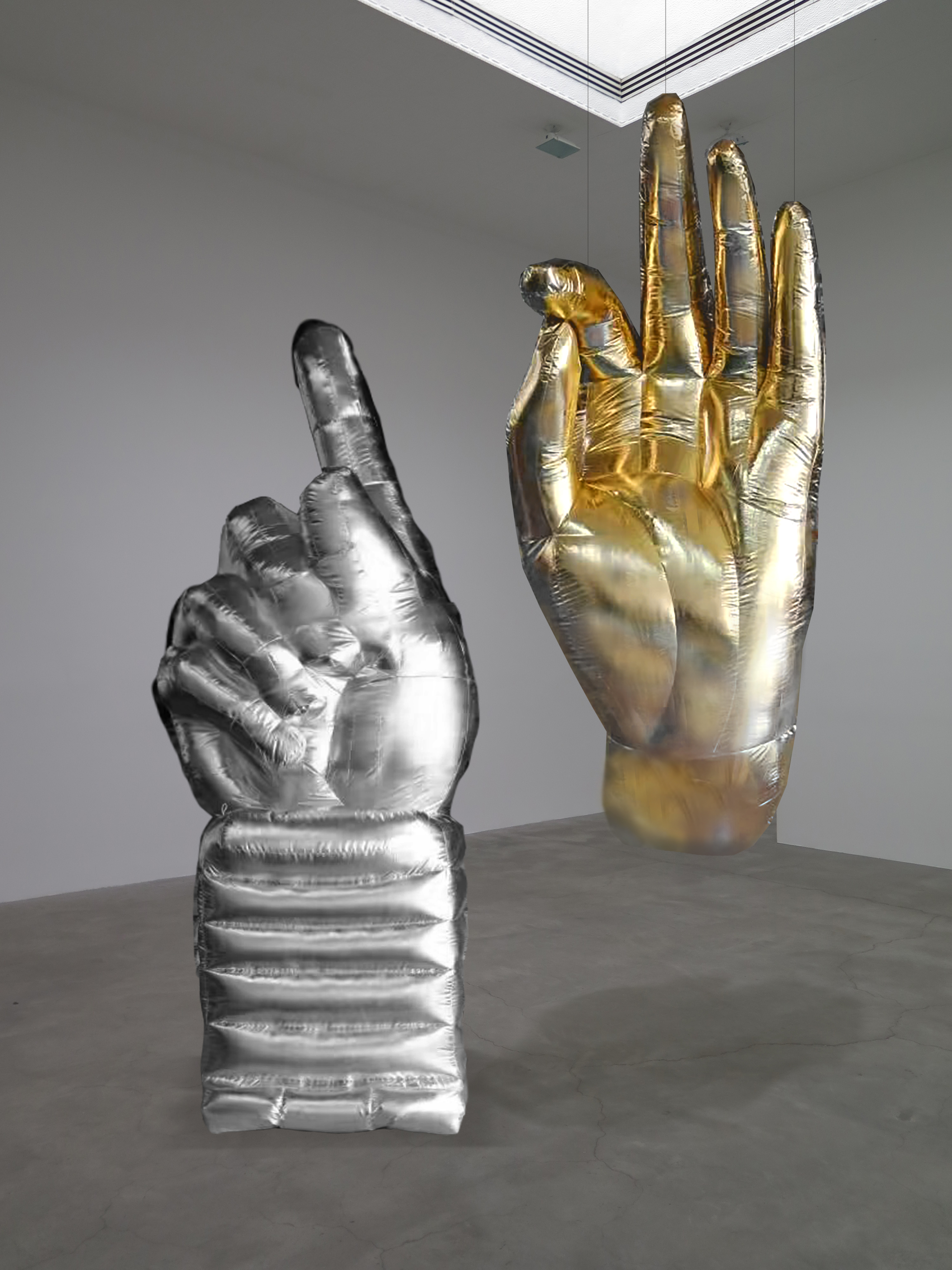 Melissa Steckbauer Profile 2023.pdf